Who We Are.
We provide full-cycle product development from ideation, architecture and design to engineering, testing and support.
Since 2018, we have been providing advanced technological advancements to entrepreneurs and businesses globally, enhancing their operational methods and increasing their contributions to the contemporary world.
Thinker is a company that hires exceptional software engineers, application developers, and UI/UX designers. This enables us to meet your requirements and overcome your technological obstacles in areas such as strategy, design, and application/system development.
We develop digital solutions that empower our clients to become exemplars of technology in their respective industries.
Our team at Thinker is committed to continuous innovation and staying ahead of the technological curve. By leveraging cutting-edge tools and staying updated with the latest industry trends, we ensure that our clients receive state-of-the-art solutions that propel their businesses forward.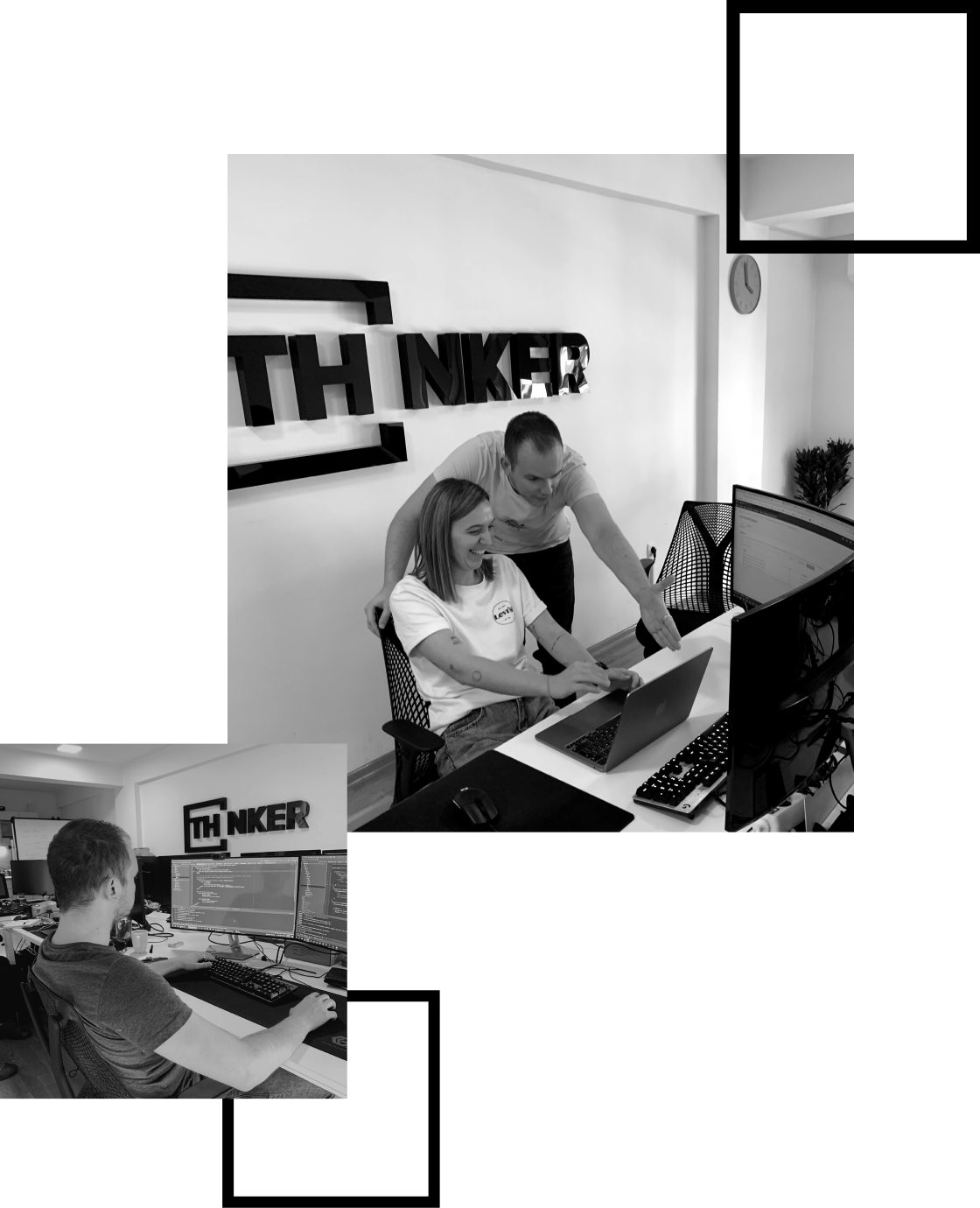 How we are different.
We believe in building long-lasting partnerships with our clients, ensuring their success through our solutions.
As a software company, we understand that success lies in understanding our clients' needs deeply, tailoring our solutions to their specific requirements.
We embrace a customer-centric approach, actively listening to feedback and constantly iterating our software to ensure it aligns with evolving market demands.
Innovation is in our DNA. We consistently challenge conventional thinking, allowing us to create software that revolutionizes industries.
Reasons to work with us.
Gain a competitive edge by leveraging our software company's innovative solutions and technology-driven strategies.
---
GROWTH
Our expertise in developing scalable and innovative solutions empowers businesses to expand their capabilities, reach new markets, and drive revenue growth. We collaborate closely with our clients to understand their growth objectives and tailor our software solutions to align with their long-term strategies.
---
WE ARE HELPFUL
At our core, we prioritize being helpful to our clients. We take the time to listen to their unique challenges and goals, providing guidance and support throughout the entire software development process. Our dedicated team goes above and beyond to ensure that our clients' needs are met, offering proactive solutions, timely communication, and exceptional customer service.
---
CREATIVITY
We strive to think outside the box and bring fresh ideas to the table, ensuring that the final product stands out in a competitive market. From conceptualizing unique features to finding innovative solutions to complex problems, we infuse creativity into every aspect of the software solution, resulting in a product that not only meets functional requirements but also captivates users and delivers a memorable experience.
---
ENGAGEMENT
We pride ourselves on fostering a strong engagement with our clients throughout the software development journey. We value your input and actively involve you in the decision-making process. Our collaborative approach ensures that your vision and requirements are fully understood and incorporated into the final product. With open communication channels and frequent updates, we keep you engaged and informed every step of the way.